I had a very religious upbringing and I still go to church regularly. And I've carried some form of bible reading software with me since I installed a the original OliveTree BibleReader on my Palm III back in 1999. So when I got my Palm Pre, I was very interested in looking for Bible readers on webOS. With the the Pre entering its seventeenth month of existence, the development of software in this area gives a good overview of the growth and lack of growth in webOS.
I have tried to take a look at the various Bible apps which I've encountered on webOS and will review them in turn. While this software round up will not be exhaustive I will try to be reasonably thorough.


webOZ Mobile Apps has created a number of readers for various translations of the Bible, each of which is sold separately (for $1.49-2.99). In addition, webOZ sells other Bible study tools like dictionaries which can be accessed from their Bible readers. Each of these apps are simple, fast, and intuitive. The Scrolling is fast and smooth. Tapping on an arrow on the lower left corner of the screen activates an auto-scroll function. To the right is an arrow which scrolls a page at a time. And in the middle is an options button which drops down a convenient menu for highlighting text, bookmarks, copying text, email, and search.
Each reader presents the user with a clean, friendly screen which makes it easy to drill down to the book you are looking for. Chapters are a little different as they appear on a drop down grid at the top of the screen once you've chosen your book. Verses however are awkward, you can't drill down to the verse you are looking for, you have to scroll through your chapter to find it. Searching is fast and intuitive (the app begins to search as soon as you begin to type) but it requires an active connection to the Internet to work.
The fact that every translation is sold separately is both good and bad. On the bright side, you can take advantage of webOS's native multitasking to run multiple translations side by side. On the other hand, you do get the uneasy feeling that you are being nickeled and dimed by having to buy each translation. (But they are cheap, so it's not too bad.) More worrying is the fact that webOZ simply does not have that many translations available for purchase. I'm Latino and I grew up using the Spanish language 1960 Reina Valera translation a lot and as far as I know webOZ only offers the 1909 version which uses older sounding language. When I'm reading in English, webOZ presents me with the opposite problem, they have the older King James version but not the 1963 Modern King James version.
Overall, webOZ presents a nice stable of clean, easy to use Bible translations for the casual churchgoer. But more serious Bible students should probably look into something a little more powerful.
YouVersion (simply called "Bible" in the webOS App Catalog)
started out as little more than app wrapper for mobile version of the
website
of the same name but recently their Bible reader has improved greatly both in terms of looks and usability. It's tight integration with the YouVersion website is potentially very useful for serious Bible students.
YouVersion presents a nice, clean home screen which allows access to wide variety of Biblical translations. Once inside, it is easy to switch between translations. There is also an attractive dark theme for low light situations. It is easy to drill down by book and by chapter but as with webOZ it is impossible to drill down to specific verse, except by searching for it. Search is fairly quick but noticeably slower than with the webOZ Bible readers which search as you type.
Tapping on a verse allows you do a wide variety of things with the text, including copy it to the clipboard. But most other functions—even creating a bookmark—require you to have an account with YouVersion. But you can email the text and look at Contributions (essentially crowd sourced notes about the verse you've selected) made by YouVersion users. If you do have a YouVersion account, you can add Contributions of your own and share them with other users.
YouVersion is a fairly powerful Bible app but a lot of that power is due to its tight integration with the YouVersion website. So while hardcore Bible students will likely find it to be a valuable tool, more casual users might not be willing to commit to joining yet another website.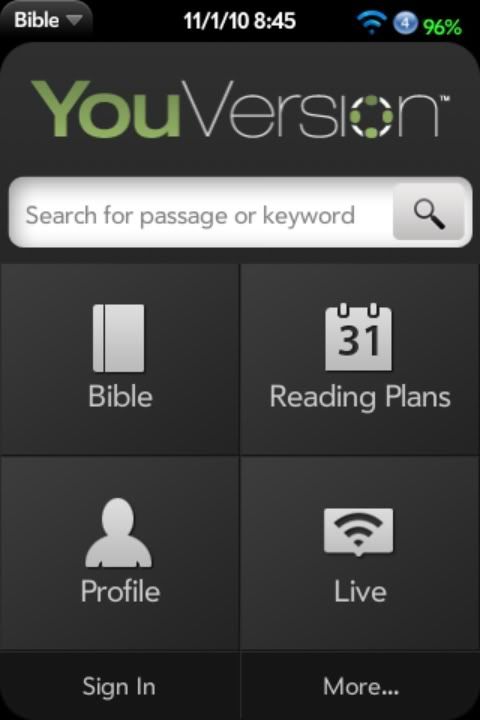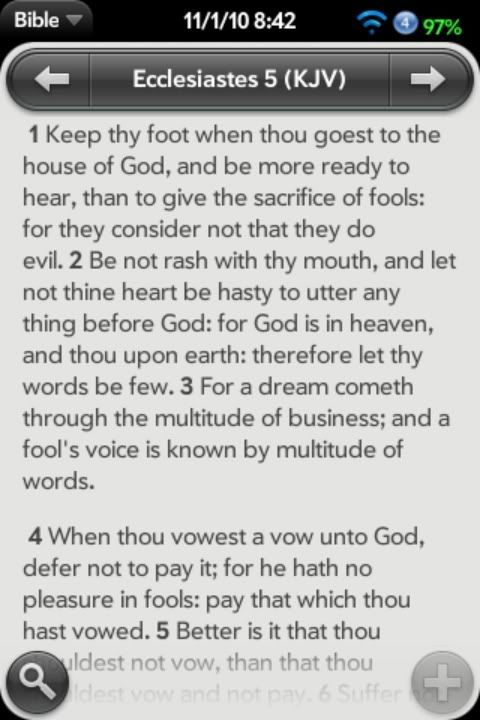 Bible Reader Plus ($1.49, free version available)
is an app wrapper for the mobile version of excellent
BibleGateway
website which boasts "over 100 versions and 50 languages." But it does have a few interesting tricks. Once you've selected your verse, what you can do with it depends on the format of the Bible. The bibles come in three formats: web, database, and audio. Web bibles can only be copied and pasted like ordinary text you come across on the web. But text database and audio bibles can also be highlighted and shared online through, Facebook, Email, and SMS. And audio bibles can also, as the name implies, read the text back to you.
Bible Reader Plus also has tools for creating a Bible study plan with reminders, journals, and reports. Its web bibles also allow you to type out the book, chapter, and verse you are looking for and drill down to it which is a feature that other readers lack. Another nice feature is that it can open multiple cards so you can run several different translations side by side.
The biggest advantage of Bible Reader Plus is the sheer number of translations that it offers. But its many translations have an inconsistent look and feel and not all of its features can be accessed in every translation. As a result, Bible Reader Plus works best as a supplemental tool for serious Bible students or as a tool for casual users who occasionally look up a single verse.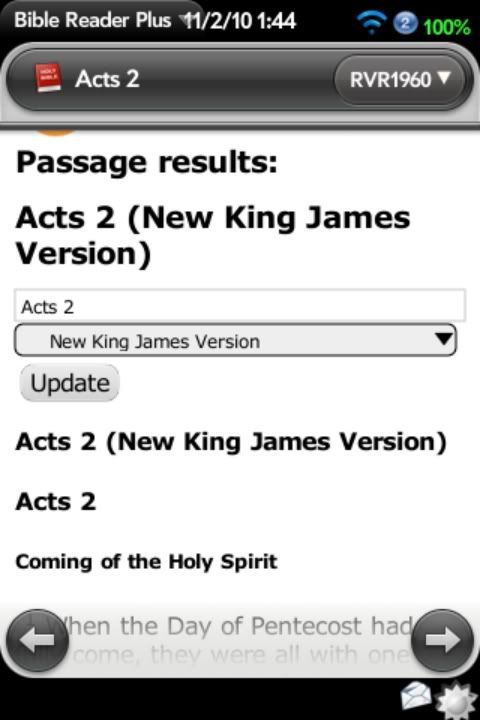 BibleZ (Free) allows you download XML databases for a variety of translations of the Bible. The databases are quite large and don't always download nicely over 3G connections. They do however download well over WiFi . As with the webOZ offerings, you may not be able to find your favorite translation for BibleZ.
If you can, BibleZ offers the most attractive interface of the Bible readers I am reviewing here and allows you to switch between translations and drill down by book and by chapter easily via cleanly laid out menus and selection screens. As with most of the apps in this roundup, there is no way to drill down to a specific verse unless you do a search. And BibleZ is a little slower than the other apps to jump from its search results to a specific verse.
When BibleZ goes into landscape mode its interface elements disappear which is a nice feature when you just want to read. BibleZ also includes quick access to your reading history, notes, and bookmarks. It also allows you to tap on a verse to add a bookmark, note, highlight, and to either copy or share a verse through email or SMS.
All these features make BibleZ a very attractive and powerful app. The only thing holding it back is is the number of tranlations—BibleZ has a lot of them but it simply can't match the number of translations that online bible based apps like YouVersion and Bible Reader Plus boast.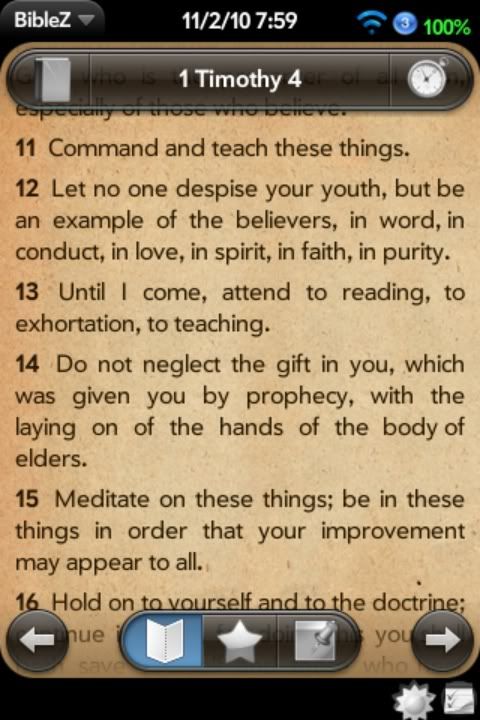 Simple Bible (Free) Like BibleZ, Simple Bible depends on databases to load its biblical translations. Simple Bible has fewer databases and a clunkier interface. When you first start Simple Bible, it shows a splash screen with "What's New" and "Donate" buttons. This screen can be disabled, as can the the pop up encouraging you to download the Ten Commandments companion app. Once these screens are disabled, Simple Bible presents you with a list of your Bibles and a link to download more within the app. As with BibleZ, the databases are large and best downloaded over a WiFi connection.
Once you have opened your bible, a button toggles between the Old and New Testaments and menus allow you to select books and chapters quickly but you have to scroll to your verse or search for it. Bookmarking is rudimentary and clumsy. But Simple Bible does have one nice feature. You can tap on the screen and all the interface elements disappear, allowing for distraction free reading in either portrait or landscape mode.
Overall Simple Bible is something of a misnomer, while it is a nice free app it is also clunky and tends to get in your way more than it helps.
OliveTree BibleReader
is an old school PalmOS program which runs well inside the Classic PalmOS emulator. I saved this program for last not because it's the best (even though it is) but because Palm's recent decision to
stop supporting Classic
means that the days when webOS users can run PalmOS apps on their phones may be numbered. Nevertheless, Classic still runs on the Palm Pre, Pixi, Pre Plus, and Pixi Plus for the moment at least so I'm including OliveTree in this roundup.
BibleReader uses databases for its biblical translations which much be purchased and installed separately from the reader in Classic. Some of these translations are free but others can be
quite expensive
. But OliveTree leverages the maturity of PalmOS to create an app with the kind of power and versatility which blows away the webOS apps in this roundup. In addition to bibles, BibleReader can also open commentaries, dictionaries, ebooks, maps, and more.
Every aspect of BibleReader can be customized with preferences for desktops, fonts, toolbars, and scrolling all of which can be tweaked by the user. You'll notice most of the apps in this roundup have one format the verses while YouVersion uses a different format which groups verses into paragraphs. As far as I can tell, the verse format cannot be changed in any of the webOS apps. But in OliveTree BibleReader this format can be changed.
Even though it looks pretty ugly next to the beautiful webOS apps in this roundup BibleReader is simply much more robust than its webOS competitors. It can remap the virtual buttons in Classic to control any of BibleReader's features. And BibleReader has a lot of features. Its bookmarks menu is better and easier to use than the bookmarking feature of any of the other apps in this roundup and it can be edited, saved, and exported as a file. It has menus for switching between translations and for quickly accessing your reading history.
BibleReader has a versatile and customizable verse chooser which allows you to drill down to a specific verse quickly and easily. And if you use one of the BibleReader desktops which support a "live toolbar" you can actually tap on any chapter or verse and select a new one from the verse chooser.
BibleReader's biggest weakness is that it was originally designed for a stylus-driven screen. Some of the screen elements are quite small and can require some pinching and zooming for large handed users. Similarly, the fact that it must run inside the Classic emulator is another weakness for BibleReader. Classic is slow to load and is about to be abandoned by Palm. So while in many respects BibleReader blows away the competition an one very critical respect, it isn't even in the race.

Conclusion: It's disappointing to see Palm abandon its Classic emulator so soon. While there are some good apps in this roundup, none of them have the power and flexibility of BibleReader and a similar story can be told about apps in other categories. Nevertheless, it would be a mistake for some who doesn't already have a large investment in PalmOS apps to try them right now.
As for the webOS apps, if it has your favorite biblical translation, BibleZ is your best bet. It has a great combination of flexibility and power. If you don't have a favorite biblical translation go with one of the webOZ translations. It's simple, fast, and perfect for casual users.